Innovative eye-tracking solutions for higher efficiency at computer workstations
Lead investor Sandra Berkson participates together with other investors
Sandra Berkson: "'Gazing instead of clicking' will become the standard for modern, ergonomically optimized workstations"
4tiitoo CEO Tore Meyer: "Higher efficiency, improved ergonomics, more motivation at work"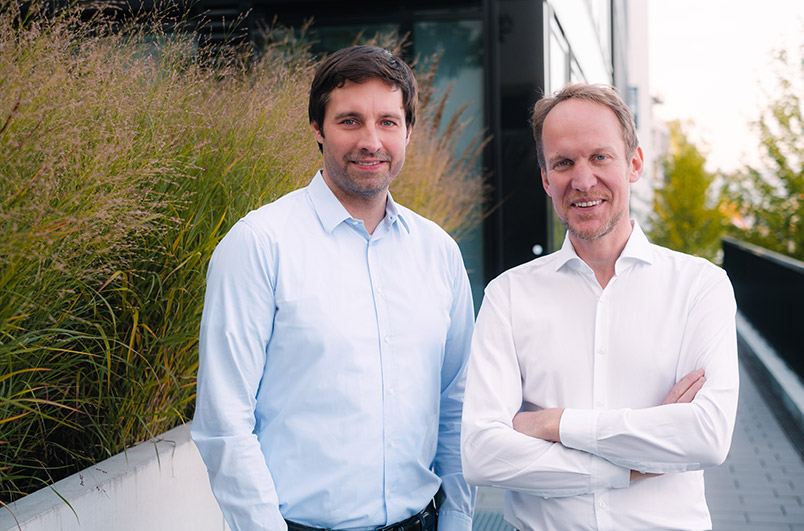 Munich, October 15th, 2020. 4tiitoo (forty two) a Munich-based start-up specializing in gaze control for computer operation, has received 3.1 million euros from a group of investors within a capital increase. Austrian entrepreneur Sandra Berkson is leading the financing round, also participating are business angels from the BayStartUP investor network. The fresh capital will primarily be invested in the marketing and further development of the current software platform NUIA Productivity+ as well as other smart eye-control solutions, which, in the new normal of mobile work, soon will also make video-based communication much more efficient. Due to continuing high interest, the financing round will remain open for additional investors until the end of November via a second closing.

4tiitoo's solutions replace a large part of the mouse interaction at the computer with natural gaze control. This increases efficiency by up to twelve percent while simultaneously improving workplace ergonomics. Users can control links, buttons, and input fields directly by sight and to automatically scroll through content at a speed that is adapted to the reader's pace. In addition, the AI-based, self-learning software recognizes individual user behavior after only a short period of use, makes increasingly precise predictions and actively suggests expected user input. This technology, called "intention prediction", creates a completely new dimension in the interaction with our devices, and is coming ever closer to natural communication between people.

4tiitoo's products are used across industries and cover all areas of human-machine interaction. Customers include leading companies in the sectors of financial services, insurance, automotive, engineering, utilities, and manufacturing, among others. 4tiitoo's software platform is used at computer workstations in a wide range of departments, from accounting and purchasing to design and software development, service centers, logistics and production.

Viennese entrepreneur and investor Sandra Berkson on her motivation for the investment: "4tiitoo's eye-tracking solutions will completely change the way we use computers. 'Gazing instead of clicking' will become the standard for modern, ergonomically optimized workstations. The 4tiitoo team is already at the forefront of practical eye-tracking solutions with its innovative, AI-based approach. For us, this is also an ideal investment opportunity because 4tiitoo's solutions can be scaled across a vast range of applications, industries and workspaces."

Dr. Carsten Rudolph, Managing Director of BayStartUP, commented: "The combination of high-tech with a strong degree of innovation and an attractive, scalable business model makes 4tiitoo particularly attractive for investors. The fact that we have actively contributed to the company's financing round is also a great success for our start-up network."

4tiitoo co-founder and managing director Tore Meyer said: "We are very pleased with the successful pre-A-financing round and see this as a sign of the potential of our technology, especially considering the current challenging conditions. With people working more and more at the computer, we provide higher efficiency combined with improved work ergonomics. Last, but not least, our innovative and intuitive way of controlling the PC boosts motivation!"

The 4tiitoo software functions with all standard computer programs. Further optimized features and functionalities are available for Microsoft Office programs, internet browsers and a variety of application programs.
NUIA Productivity+ product videos
Office workstation
Production workstation
About 4tiitoo
4tiitoo GmbH is a market-leading enterprise software company for AI-based solutions for intuitive gaze control of computers. The software NUIA Productivity+ improves efficiency and ergonomics when using standard office software. 4tiitoo was founded in 2013 by Tore Meyer and Stephan Odoerfer.